As a Showit website designer who designs Showit templates and Custom Showit websites for quite some time, I often get asked about a Showit review as a platform.
Usually, when I was previously asked for a Showit review or opinion on Showit as a platform by photographers and creative businesses I emailed them all of the information I gathered by using and utilizing the Showit platform as a Showit website and template designer.
Most of my contacts and prospects wanted to know if Showit is the right platform for their photography or creative business.
Now all of the information I gathered is compiled in this post – the complete Showit review.
Who is Showit for?
One of the main things to know is that Showit has been designed with the main focus to provide a user-friendly platform for photographers.
You can find many industry known professionals & influencers utilizing the platform like Jenna Kutcher, Jasmine Star, Katelyn James, etc.
However, while Showit started as a platform for photographers nowadays is used by businesses in other niches for their website design needs, too.
SHOWIT PROS
1 | Full Design and Creative Freedom
The most awesome Showit feature is that the platform gives you complete creative design freedom.
You can design and style however you want.
And if you make sure you have used all appropriate settings on your Showit website you can get a pixel perfect website.
From a designer perspective, since I design Showit templates as well as Showit websites for my clients the process to design a new website completely from scratch with Showit is one of the best experiences I had as a designer.
Sometimes I feel I do not need Photoshop or Illustrator at all.
The possibilities Showit provides as a platform feel almost limitless.
2 | Easy Drag and Drop Website Design Platform
As a designer, I 100% understand how challenging and overwhelming keeping your website up to date and adding new content may feel.
One of the biggest obstacles, when photography or creative businesses decide on a platform, is the presumption it will be required of them to learn to code to maintain, update or design their website.
And, let's face it, the average small business owner does not have the time to learn coding on top of running a successful business.
With Showit 5, you will get a 100% drag and drop platform to design and update your website.
You will most probably never have to figure out how to code to design your website just the way you want.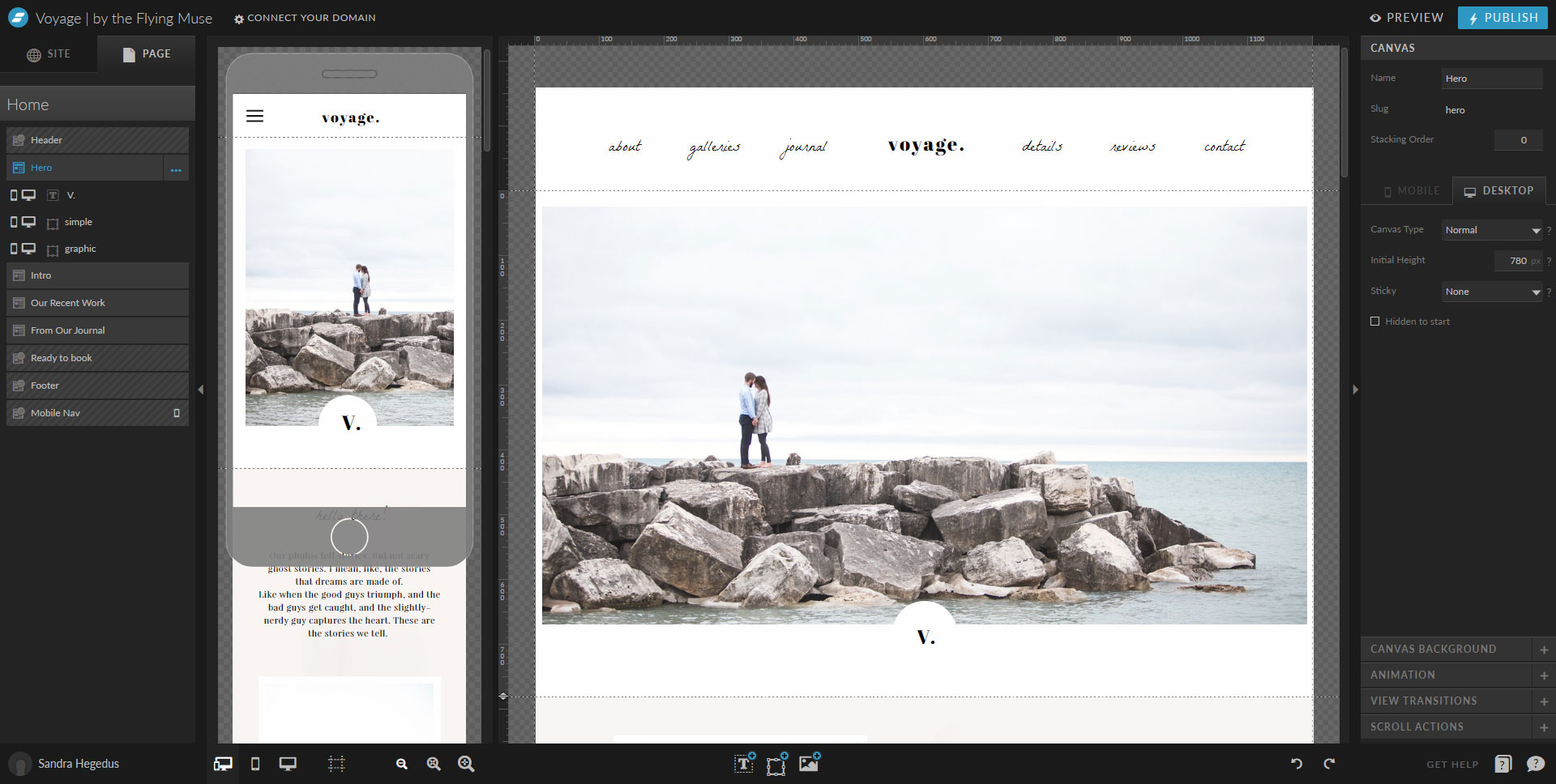 Displayed above: Showit Platform Design Interface (screenshot of my Voyage Template Design for Showit)
3 | 100% Customizable Design
Showit 5 can make your design dreams come true.
If you can imagine it, you can click it, swap it, drop it just the way you want.
Every detail is completely and easily customizable to fit your brand and is just a few clicks away.
If you want to jump-start on Showit 5, you can always start with a free or paid Showit website design template.
Templates also come with all of the Showit settings built-in, so you can only plug your content in, push the Publish button and celebrate your new website.
If you're not happy with any of the Showit's templates or you'd like to handcraft a completely custom Showit website experience, the platform allows you to start completely from a blank canvas, too.
You absolutely do not have to start from a template.
Designing from a blank canvas is limitless to what you can do anywhere on the page, header, footer, and even on the mobile website itself.
If you're not comfortable designing from scratch on your own, you can always hire a Showit website designer just like myself to design and handcraft a custom website experience tailored to your brand and audience.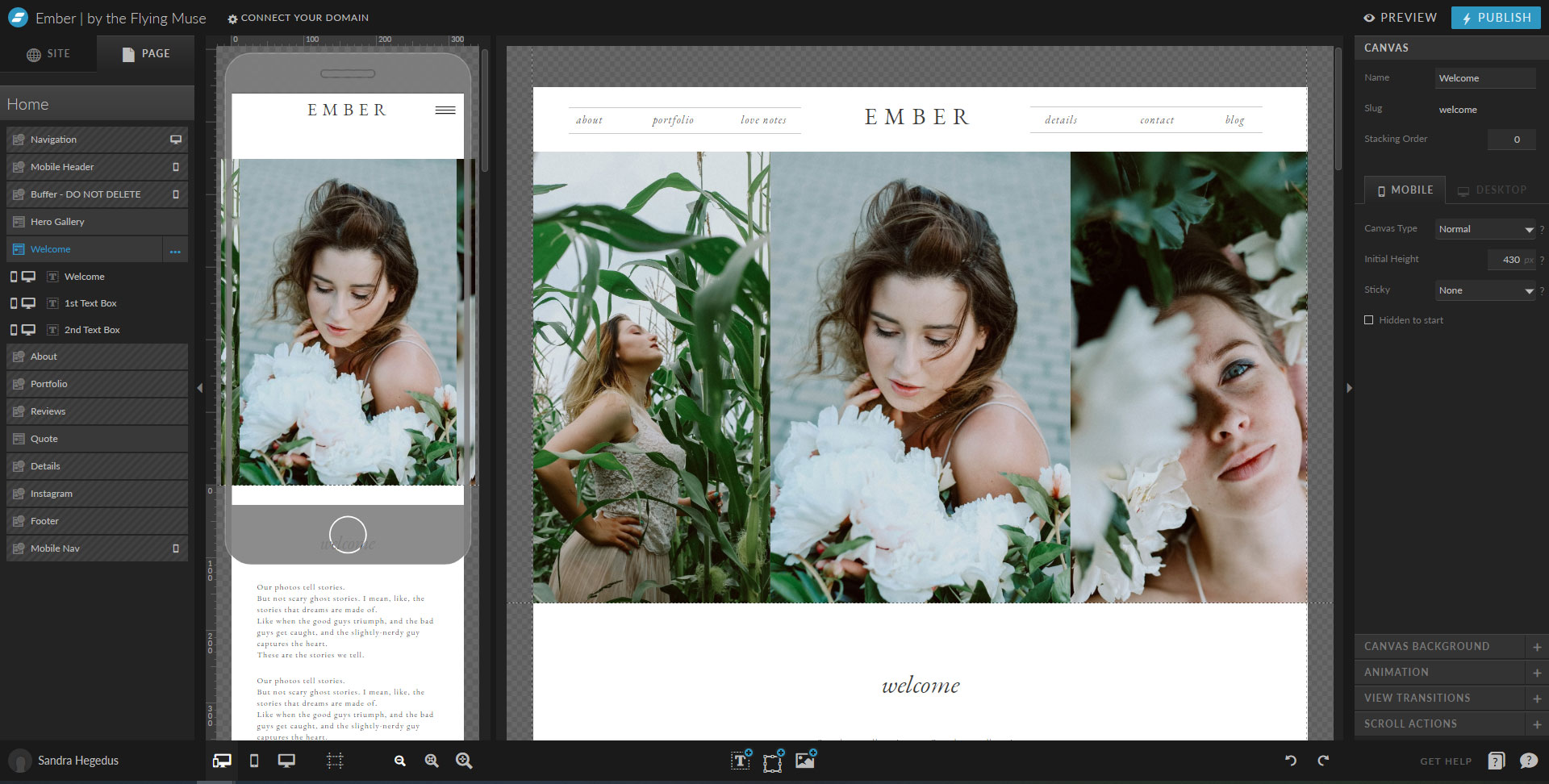 Displayed above: Ember – Showit Website Template from the Flying Muse Shop. Check Ember here.
4 | Reusable Layouts and Add-On Templates
With Showit it really doesn't matter how and by whom your website was designed.
No matter if you started to design your website from a blank canvas, a free/premium Showit website template, or you work with a Showit website designer you can add any layouts or add-on templates whenever you want or need to.
You can even add a template like this one with a few clicks to create an Instagram Landing Page for your new or existing website.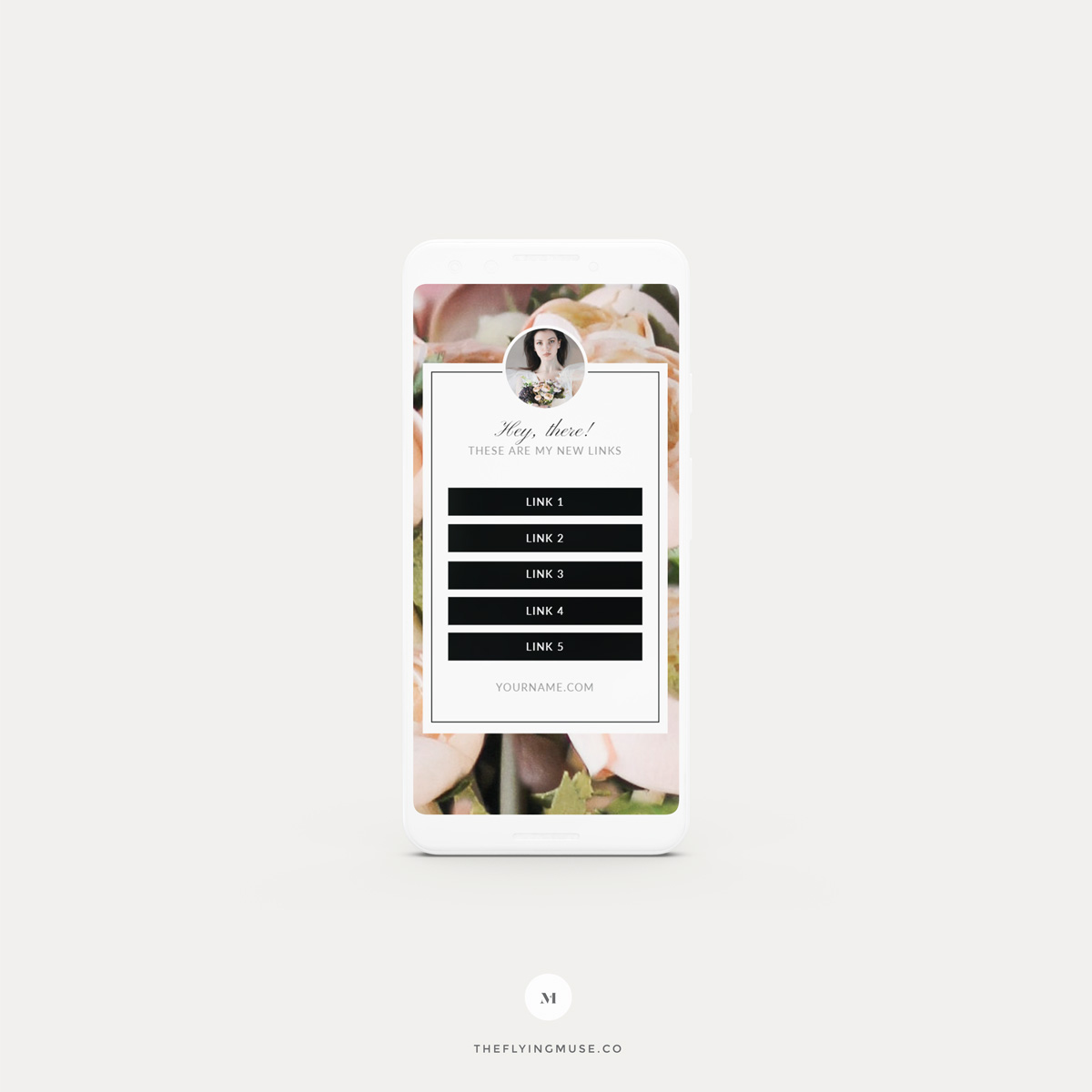 You can browse the Showit Template Library for any of the free templates and install any layout you like.
For a full tutorial on how to work with Showit templates, be sure to check out my Complete Guide on How to install any Showit Template.
To add on that, not only you get a fully functional layout but Showit makes it easier to apply your colors and fonts to that layout with a simple click of a button!
5 | You can handcraft a completely custom mobile website experience
Most platforms and website design frameworks, usually lack mobile design freedom.
What's great with Showit is – you can handcraft a completely different, unique, and custom mobile website experience.
No more, what if I could remove just this element on mobile or what if I could just swap the position of these elements.
Gone and forgotten are those days! 🙂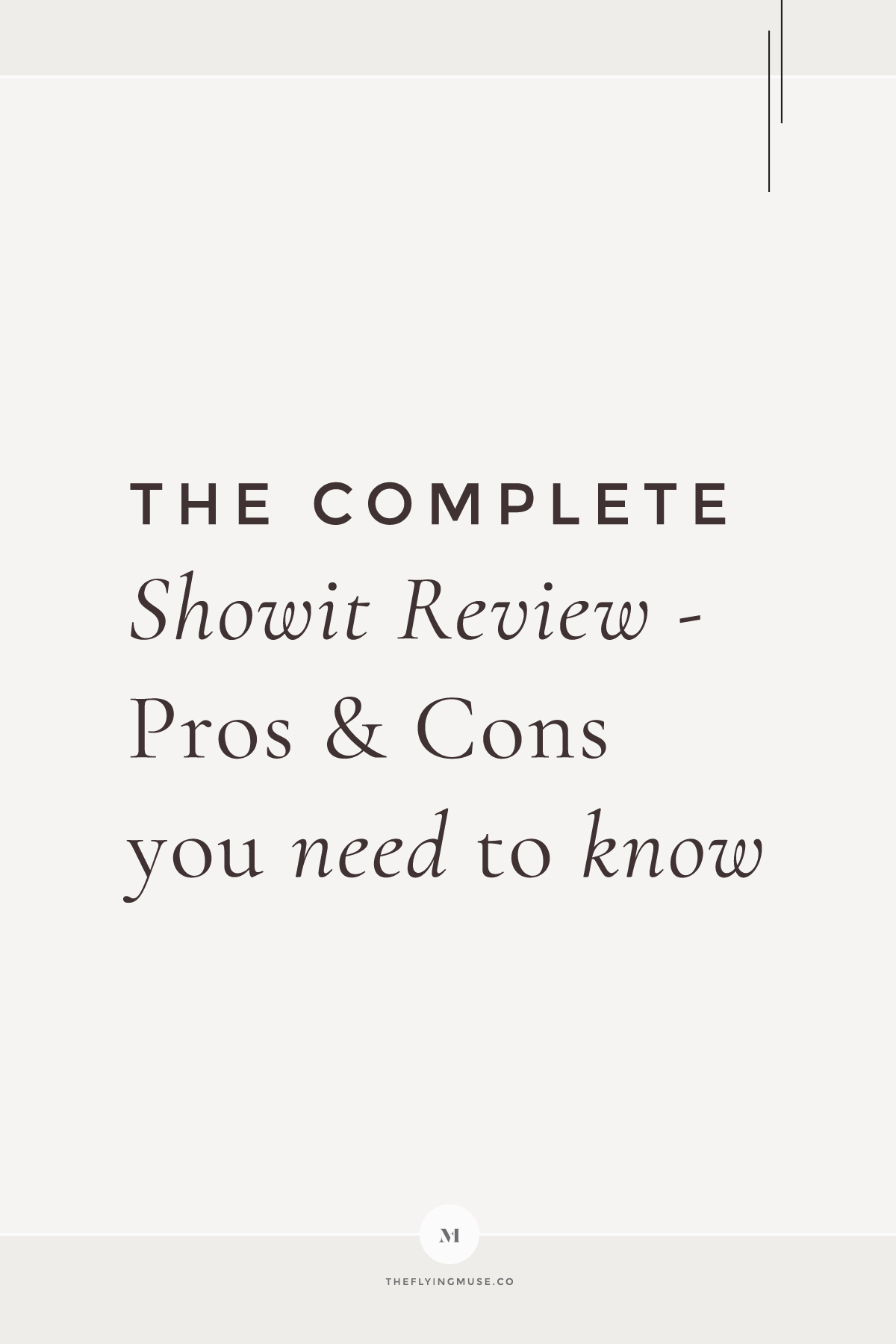 6 | WordPress integration
The Showit platform integrates with the most popular content management system, WordPress.
With Showit, not only will you get the SEO juices from blogging on WordPress, but Showit will host your blog on one of the most prominent hosting platforms in the industry WP Engine.
Both the basic and the advanced blogs are fueled by and hosted on WP Engine.
And fret no more, WP Engine not only makes sure your WordPress blog runs efficiently but they also manage security and updates so you don't have to.
7 | Great community and Showit team
I cannot tell you how many times I messaged the Showit team while working on one of my Showit template designs or client websites.
Their team is awesome, responds to messages with clear and easy to follow information.
Prepare yourself to receive one or several animated GIFs – which definitely relieve the stress, and especially when you're on a schedule. 🙂
And, if you ever feel stuck and not in a mood to chat with the support team, you can always post in the Showit's Facebook community.
Fortunately, Showit is used by more and more users, so it should be quite easy and effortless to get the right information at the time you need it the most.
Or, if you want advice straight from me feel free to post your question inside my nearly 3K Photography Branding, Marketing, and Business Facebook community.
I read all messages every day, and respond personally. So, don't be a stranger, if you want you can join in to just say hi. 🙂
8 | Similar to Illustrator, Photoshop & Lightroom
If you ever worked with the Adobe suite, and especially Illustrator, Photoshop or Lightroom – it will be easy for you to grasp the interface in no time.
The options and the icons in Showit will feel almost like a best friend. 🙂
There are many similarities between Showit and Illustrator, Photoshop, and Lightroom, and you can design from a fresh canvas almost anything.
On the plus side, your design turns into a website with the magical Publish button. How great is that! 🙂
SHOWIT CONS
1 | Longer Design Process & Learning Curve
Complete creative freedom always comes at a certain cost.
Because Showit provides an option to design a unique desktop and mobile experience, that means you will need to design for both screen sizes separately.
When you have finished designing your desktop site, you will not only need but have to, go and design your mobile website.
However, Showit has made this easier with the built-in option to convert your website for mobile.
This doesn't mean everything will get done for you with a simple push of a button.
You will still need to tweak and optimize your Showit mobile website design.
2 | Responsive specifics
While Showit is definitely awesome to bring your design alive, one thing to note is that Showit is what I call Responsive-ready and not a fully responsive platform.
What does this mean?
With other website design platforms (such as ProPhoto & Elementor), your web page 100% fluidly adapts to the visitors' device screen size.
Elements seamlessly rearrange themselves from multiple rows into a simpler, tablet, or mobile layout. This is called a fluid layout.
With Showit, if you visit your website from a smaller screen than a standard laptop/desktop one (i.e. 11 inches one) all elements will shrink down, will look smaller, without any rearranging.
However, you will need to decide if the freedom to design, maintain, and update your website with just a few clicks using a drag and drop editor is worth the trade-off.
And, the most important thing about this is – this specific about the Showit platform will not impact your SEO efforts. You can rank as high as with any other platform out there.
3 | Facebook & Instagram browser issue, responsive problem and render issues
The Showit designer community and the Showit team are familiarized with the Facebook Browser render issue, where some elements layer themselves, overlap on top of others.
This makes a website look 'broken' when clicking a link to your Showit website from the Facebook application (Instagram, too).
While this may seem like a big problem and a big obstacle to choose Showit as your website design platform, there are certain actions that can be taken to minimize this problem.
The actions are but not limited to spacing out elements, leaving breathing room, as well as testing your website on your mobile device.
I will be writing a new blog post about How to solve the Showit Facebook and Instagram Browser responsive and render problem soon.
To get an announcement when this post goes alive, make sure you subscribe to my newsletter.
Or, simply, if you don't want to run into this problem, you can work with me on your new Showit website design.
If you're on a budget or looking to launch your Showit the Do-It-Yourself way, you can check my Showit templates out.
I test every Showit template I design extensively and make sure this issue is not present in my own templates.
Update August 2021: There have been many improvements about this since I wrote this post. I see this much this happening much much less than before, and when it does happen it usually is because a Showit page hasn't been built using the Showit recommended practicies. So, if you do have an issue like this make sure you follow what Showit recommends. If you do so, even if you happen to have an issue, you can correct this in no time.
4 | E-commerce
Showit doesn't come with an e-commerce solution or any extra features other than a brochure website with an optional blog.
While Showit tried to make WooCommerce compatible with the platform, they still do not provide this as a complete solution.
EDIT: There have been some improvements done recently for WooCommerce integration. I am currently inspecting them and will update provide an update here.
August 2021 update: There have been huge improvements when it comes to WooCommerce integration on Showit. Now, you can customize almost everything. If you are looking to design an e-commerce website using Showit and WooCommerce feel free to get in touch. I am always happy to hear about your ideas and thrilled about a possibility of working together. 
You can definitely get WooCommerce installed on a Showit account. However, there are many settings and workarounds you will need to do to get a WooCommerce store set and installed on your Showit website.
Not to mention, should you choose to do so, you will need the Showit's Tier 3 subscription.
However, there are some workarounds other Showit users use, to implement an e-commerce solution into their websites.
While some of them use Shopify, there are some who try implementing ThriveCart, too.
6 | Higher subscription for extra plugins
For the average user, the Tier 1 and Tier 2 Showit subscriptions are just enough.
While Tier 1 acts like a static (a brochure-like) website, Tier 2 comes with a fully-fledged WordPress blog.
However, getting a WordPress blog doesn't mean you can get any WordPress plugin you want.
For the average photographer, creative business user, coach or a blogger, Tier 2 should be just enough.
However, if you need any extra plugins other than what is on the Showit's approved plugin list, you will need to get the Tier 3 subscription.
And, even with this subscription, there's no guarantee the plugin you would love to implement is compatible with Showit.
7 | External email hosting
Unlike when you host your website on a hosting you have purchased by yourself (self-hosting), you don't get a branded e-mail address with your Showit subscription.
For instance, if you have chosen to host your website via Siteground or WP Engine, included with the hosting package you purchased comes an option to get a branded (yourname@yourdomain.com) e-mail address.
With any of the Showit subscription tiers, you do not get an e-mail address hosting.
To get a branded e-mail address you will need to purchase e-mail hosting elsewhere.
The most utilized option by Showit users is definitely G-Suite by Google. However, nothing stops you from getting an e-mail address hosting elsewhere.
One of the other options out there is to get an e-mail address hosting via Namecheap.
8 | Website lifetime
While I love Showit and designing inside the platform is a breeze, one of the things you need to know is that Showit is a platform you're actually 'renting'.
This is similar to Squarespace, Wix, Blogger, and recently WordPress.com, ProPhoto (EDIT: ProPhoto just announced their managed hosting platform) unlike Elementor websites.
What does this mean for you?
It is highly unlikely, but if Showit runs out of business one day, you may lose your website.
You have to take this into consideration when choosing any platform at all, and especially if it is a 'rented' platform.
However, the added benefits of no need to back-up, care for your website security, and updating your website and plugins, make choosing Showit for your website design platform worthwhile.
There are some things, you as an owner of a Showit website can do to make sure you can at least save (salvage if you will) your Showit content.
For all of my custom, Showit website design projects I provide my clients with a guide on How to back-up your Showit website as well as How to properly SEO your Showit website. This content will be also available in a course I am just writing and working on for Showit. If you'd like to get an announcement when the course will be available, you can subscribe to my newsletter.
Summary
I hope this extensive Showit Review has helped you in deciding if Showit is the right platform for your business.
To sum this post up, my key takeaways on Showit as a platform and in this Showit Review are:
I love Showit and will continue to design for this platform.
Everything on Showit can be done, sometimes it just takes a couple of minutes to figure things on your own.
As a website designer, I consider Showit as one of my very best friends! The possibilities feel almost limitless.
Small things like updating your footer, swapping images, or changing a font, literally take a few minutes.
And, that is with logging into Showit and hitting the Publish button!
Showit isn't perfect, but no platform really is.
However, for an average user as a photographer or a creative business owner, Showit is an awesome platform to design, maintain, and launch your website on.
Please feel free to let me know in the comments below if you found this Showit Review helpful. If you find that something is not included in this Showit Review, please post your question below and I will be happy to answer 🙂
If you after reading this post you decided to launch your website on Showit, please post your experience below. I'm extremely interested in hearing about your specific experience. 🙂