Considering moving your ProPhoto website to Showit?
Moving from ProPhoto to Showit can be somewhat tricky, but it can be done almost seamlessly.
And especially when it comes to SEO, there are a few things you will need to do.
Table of Contents
Showit vs. ProPhoto? Which one is better?
I wouldn't say that one is better than the other – just different.
I love both platforms. I design templates and custom websites for both Showit and ProPhoto platforms and intend to continue to do so.
However, if you are not sure if Showit is the right platform for you, make sure you check my Showit complete review where included are things from my experience and what I learned behind the scenes, as well as a comparison to ProPhoto.
What comes first, the Showit design or the migration?
One of the very common questions I get asked by clients who consider migrating their websites from ProPhoto to Showit is how the new website design and migration are done.
What is the right way to migrate ProPhoto website content to Showit?
Do I need to design the Showit website first and migrate the blog content when the design is finished or vice versa?
What about the Showit subscription?
There is a very simple answer to all of these questions.
If you have a ProPhoto website with existing content that needs to be migrated into Showit, the very best approach is to design the new Showit website first and migrate the content over when you're ready to launch your new Showit website.
At this moment Showit comes with a 14-days trial period.
You can use that time up to the most, to design your new Showit website.
If you're designing your new website by yourself you will need to obtain a subscription plan when the trial period of 14 days expires.
The important thing to note here is that you will need to pay for the subscription even in case you're not ready to launch yet.
After the expiry of the 14-day trial period, you will need to subscribe to complete and continue designing your Showit website.
However, if you work with a professional Showit website designer like me, the designer will most probably design your website on their own Showit account.
This basically means you will not need a Showit subscription until your website is ready to launch. Your Showit website designer will transfer the new website design into your Showit account.
You will need to subscribe in order for the website to get launched and your content from ProPhoto or another platform migrated over to your new WordPress Showit blog.
How to prepare for migration from ProPhoto to Showit?
Migration of your WordPress content is handled by Showit themselves. You will need to request a migration of your WordPress content.
Update June 2023: Showit does not offer migrations on the Basic plan anymore. Such blog migration has to be handled manually. This comes with certain challenges and it is not a simple copy-and-paste transition. On the Advanced subscription the Showit team will fully migrate your content over. The most important change is – downgrading from Advanced to Basic within Showit does not come with blog content migration.
While the Showit team does amazing work and migrations are almost pain-free, you need to prepare in the very rare case if things go awry.
Prior to migration make sure you have fully backed your website up.
That means you will need to download your website content directly from your hosting provider via FTP or if you're on cPanel via the File Manager and export and save your database.
This is of utmost importance in case you need to troubleshoot at a later point or if you want to install your old ProPhoto website on a local server on your computer.
If you plan on migrating from ProPhoto 8 (hosted) to Showit, it is best to get in touch with the ProPhoto team and ask how you can back your existing website up.
Even if everything goes perfectly (and most of the time does) you may still need the content from inside your backup at a later point. So, make sure to keep those files in a safe place.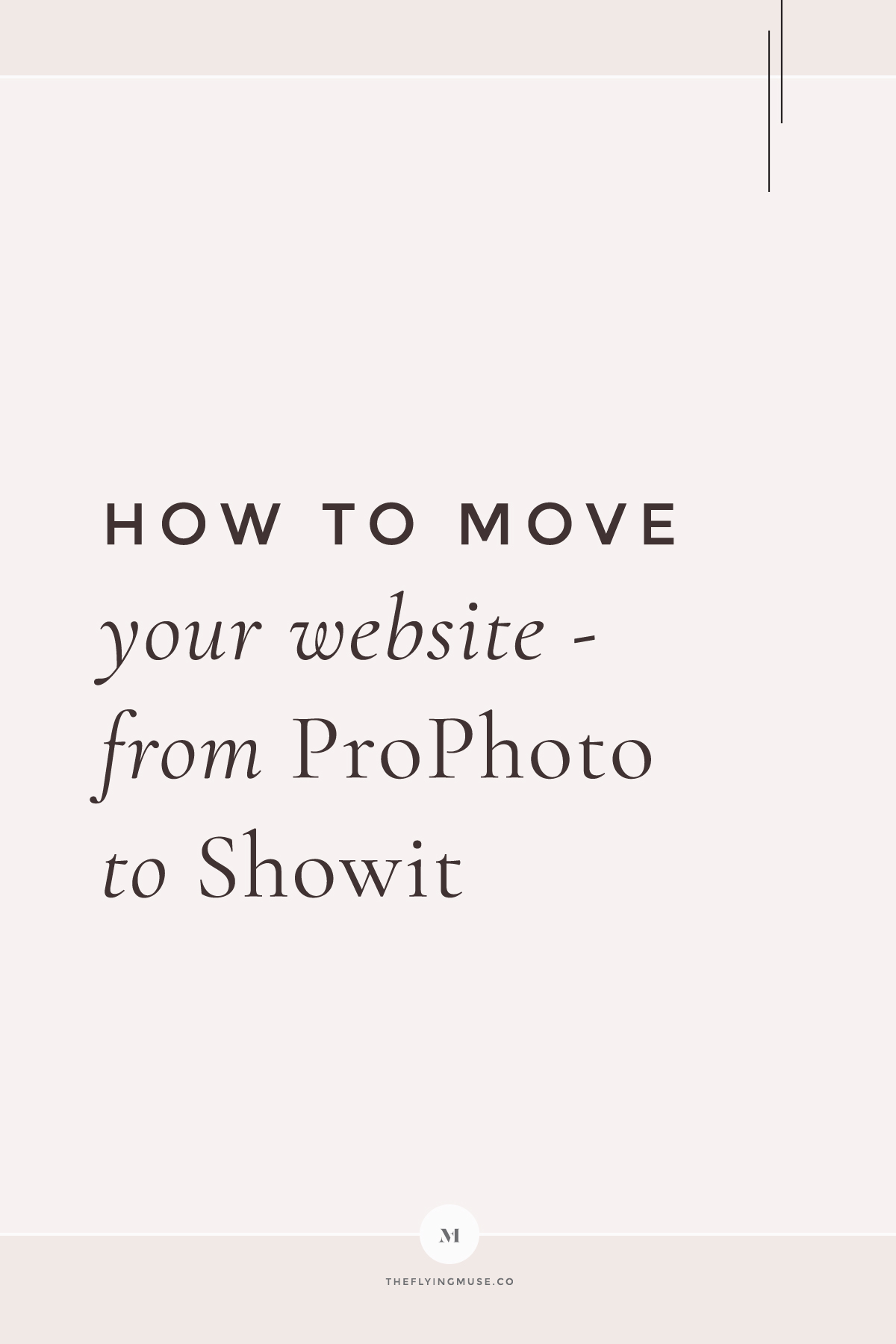 1 | Your static WordPress Pages
During a migration from ProPhoto to Showit your pages will be moved over to Showit's WordPress dashboard.
Pages moved to Showit that are WordPress pages need to be deleted from inside Showit's WordPress dashboard. The reason for this is Showit pages do not reside in WordPress.
If you leave your migrated WordPress pages you can have an issue with duplicated content. Or, your pages with similar content will compete on Google for the same or similar keywords. Plus, you do not want your website visitors to land on a page that is not relevant anymore.
2 | Your new Showit pages
If you aim at as low SEO changes as possible in an effort to keep your rankings you will need to transfer your ProPhoto website content to Showit with a setup that is as close as possible.
Therefore, make sure your new pages have the very same slug. This means if your current Investment page slug is /pricing you want the very same slug to appear in your website URL in Showit.
The next thing to take care of is to add your content with the very same settings in Showit. You will need to copy all HTML tags (h, p, div, nav, etc.) as closely as possible to how they are used in ProPhoto.
However, you should also consider Showit's recommendation on how to best set your Showit website up for SEO.
3 | Your Blog posts' SEO
WordPress blog posts' content will not be different when it comes to SEO.
The content from inside your WordPress post editor (excluding the title) will not change.
After moving to Showit, you may see some changes regarding SEO.
Therefore you need to add all HTML tags for your blog just the way they were set on your ProPhoto website. This is primarily connected to the blog post title.
Both platforms are pretty similar regarding this setup, but it doesn't hurt to check your blog post tags in Showit vs. ProPhoto.
In addition to this, depending on what settings you used inside your posts there might be some manual adaptations needed.
Showit integrates with Yoast seamlessly. In case you have used a different plug-in to manage your blog content SEO, and you plan on subscribing for the Basic plan you will need to enter SEO settings manually for each post.
Alternatively, you can migrate to the Showit Advanced subscription and keep your current SEO plugin. However, make sure to check if there are any compatibility issues with your SEO plugin of choice with the Showit platform. Not all plugins are compatible with Showit.
4 | SEO after you have moved
This should be no different than if you move to any other platform.
You will definitely see a change especially when it comes to your static pages.
If you checked all HTML tags in Showit vs ProPhoto and set them up the same way (or as close as possible) this means you should not see a significant change in your blog posts rankings.
If you'd like to learn more about how SEO is handled in Showit you can read my Showit SEO Complete Guide on How to SEO a Showit Website.
5 | Redirecting URLs
After you have moved if you need to redirect any URL this can be done from inside Showit.
6 | SSL setup
SSL comes at no added cost with each Showit subscription.
The Showit team will set this up for you at the moment they are connecting your domain to Showit.
If you're setting your domain by yourself the SSL certificate needs to be additionally set.
Make sure you ask for an SSL setup right after everything has been moved for you.
7 | What's different between Showit vs. ProPhoto?
You will need to learn Showit's recommendation on HTML tagging. You can learn more about how to properly use HTML tags in my post on How to do SEO on Showit.
This basically means you will need to know the correct way when and how to use h1, h2, etc as well as div, and p tags.
However, don't worry about this, since it is no different than what you would learn or what you already know about basic SEO.
The only change is that these tags in Showit have to be added manually (unlike ProPhoto where they are mostly taken care of for you).
Key Takeaway: How to move Your Website from ProPhoto to Showit
While moving your ProPhoto website to Showit may seem like something you really want to do, you need to know there's no perfect platform. Each one comes with its own challenges and specifics, and there's definitely a learning curve.
If your motivation is to move away from ProPhoto to Showit in an effort to improve website performance, make sure to check my article – Is migration to a new website platform to improve website performance the right choice for your business? Inside the article, you'll also find tips on what you can do about your current website performance and what are the Cons for you as a business owner should you decide to switch to another website platform.
If your budget allows, my recommendation is to work with a designer like me who is skilled in both platforms to move your ProPhoto website to Showit.
Even in case, you don't need a re-design, a designer skilled in both ProPhoto and Showit will make your transfer easier and almost pain-free.
In case you're looking to work with a designer on transferring your existing ProPhoto website to Showit or need a completely fresh and custom Showit design you can check my services page.
I do offer limited spots each month, so even if you're not sure what the right way for you is just send me a message through my contact page and I will be happy to help you to bring your new Showit (or ProPhoto) website into life.
So, have you decided on moving your ProPhoto website to Showit?