I often get asked for a comparison of website design platforms and as a website designer, I have been asked numerous times for Showit vs Squarespace comparison.
While both platforms are website builders, each one comes with its own specifics and features.
Therefore, in this article, I will provide you with a Showit vs Squarespace comparison and will be discussing the differences between the two platforms.
You will also find information and tips to help you in choosing the right and best platform for you and your business.
So, let's get started!
Table of Contents
What are the key differences between Showit and Squarespace?
Squarespace is a website design platform based on templates. At the time of launching the platform, Squarespace had small business owners in mind. Currently, Squarespace is an all-inclusive platform that provides its users access to almost all of the tools they might need in one place.
Showit is a completely drag-and-drop website design platform. At the time of launching Showit primarily was created for photographers. Since then many other creatives entrepreneurs had chosen Showit for their website platform, from designers, bloggers, artists, and coaches all the way to wedding professionals. The main reason for them choosing Showit over other website design platforms is the creative freedom the Showit allows for. While Showit is the most flexible when it comes to design, Showit's focus unlike Squarespace is on website design only. If you're looking for in-depth information on Showit make sure to check my article where you can read a full overview of Showit as a platform.
1 | Showit vs Squarespace – Ease of use
The general perception when it comes to the ease of use for Showit vs Squarespace is that Squarespace is simpler, slicker, and less overwhelming than Showit.
However, both platforms are easy to use. To find either easier to navigate and get around mainly depends on what kind of software you had used or actively use. For example, photographers will most definitely find that Showit is much easier for them to navigate. This is because of the fact the Showit app is designed around the Adobe Lightroom user interface. And, photographers usually use Lightroom daily.
On the other hand, small businesses, bloggers, and service-based creatives who need a simple portfolio will most likely find Squarespace easier to get around.
2 | Showit vs Squarespace – Domains
When you sign-up for the first time on an annual plan with Squarespace you will get a free custom domain name for your website. The domain name will be free for your first year only.
No matter the Showit subscription or the length of it, Showit does not provide a free domain name to set up your new website. However, it is extremely easy to purchase a domain name from a third party and connect the domain name with your new Showit website.
Also, on Squarespace, you can connect a third-party domain name, too.
For both platforms, you can purchase a domain name from any domain name registrar and then connect to your Showit or Squarespace website.
3 | Showit vs Squarespace – Hosting & Backups
No matter what subscription you are on, both Showit and Squarespace will host your website for you.
While Squarespace provides unlimited hosting on all plans Showit comes with limitations regarding storage and has subscription-specific quotas.
However, with a subscription to either platform, you will get both – access to the website designer app and website hosting.
Regarding backups, both Showit and Squarespace automatically back your website up.
One thing that is better on Showit is the ability to request a page to get reverted to the previous version. This has to be manually requested, there isn't a button to press and revert a page, but support is extremely responsive and will restore your page in no time. This option comes in handy in the event you mistakingly delete a page or content on a page. However, a restorable version is kept for a limited time. Therefore, it is best if you request this immediately.
4 | Showit vs Squarespace – SSL & Security
Setting up an SSL certificate is a must since secure websites rank higher on Google and provide a trust factor to your website visitors.
Luckily both platforms provide a free SSL certificate for your new website with a minor difference in how the SSL is set up.
While Squarespace configures and sets SSL certificates for any websites automatically on Showit you will have to message their team to set an SSL certificate for you. However, the process of setting up an SSL certificate is really quick. For all of the clients, I requested SSL certificate setup on Showit, the complete process never lasted for more than a few business days (usually it was up to 2 business days).
5 | Showit vs Squarespace – Email Address
Neither Showit nor Squarespace comes with email address hosting.
Showit does not come with an option to set a branded email address. However, you can easily set a branded email address by using a third-party platform. Most people who run a Showit website set up a branded email with Google Workspace. However, you can use any other email hosting platform to set up a custom email address for your domain.
Squarespace provides an integration to set up a custom email address for your domain via Google Workspace.
6 | Showit vs Squarespace – Blogging
Both Showit and Squarespace provide blogging tools within the platform with some differences.
On Squarespace, you can create, customize and launch your blog within minutes. You will just need to write your first post and hit the publish button.
On Showit, blogs are integrated with WordPress and the blog setup has to be requested separately for an existing website. For new websites, you can request a blog setup during the process of requesting a domain name setup. This is just an extra setup you will need to make. However, the fact Showit runs blogs on WordPress will make your blog even more powerful as you will be able to use some of the best SEO options on the market. So, the whole process is totally worth it.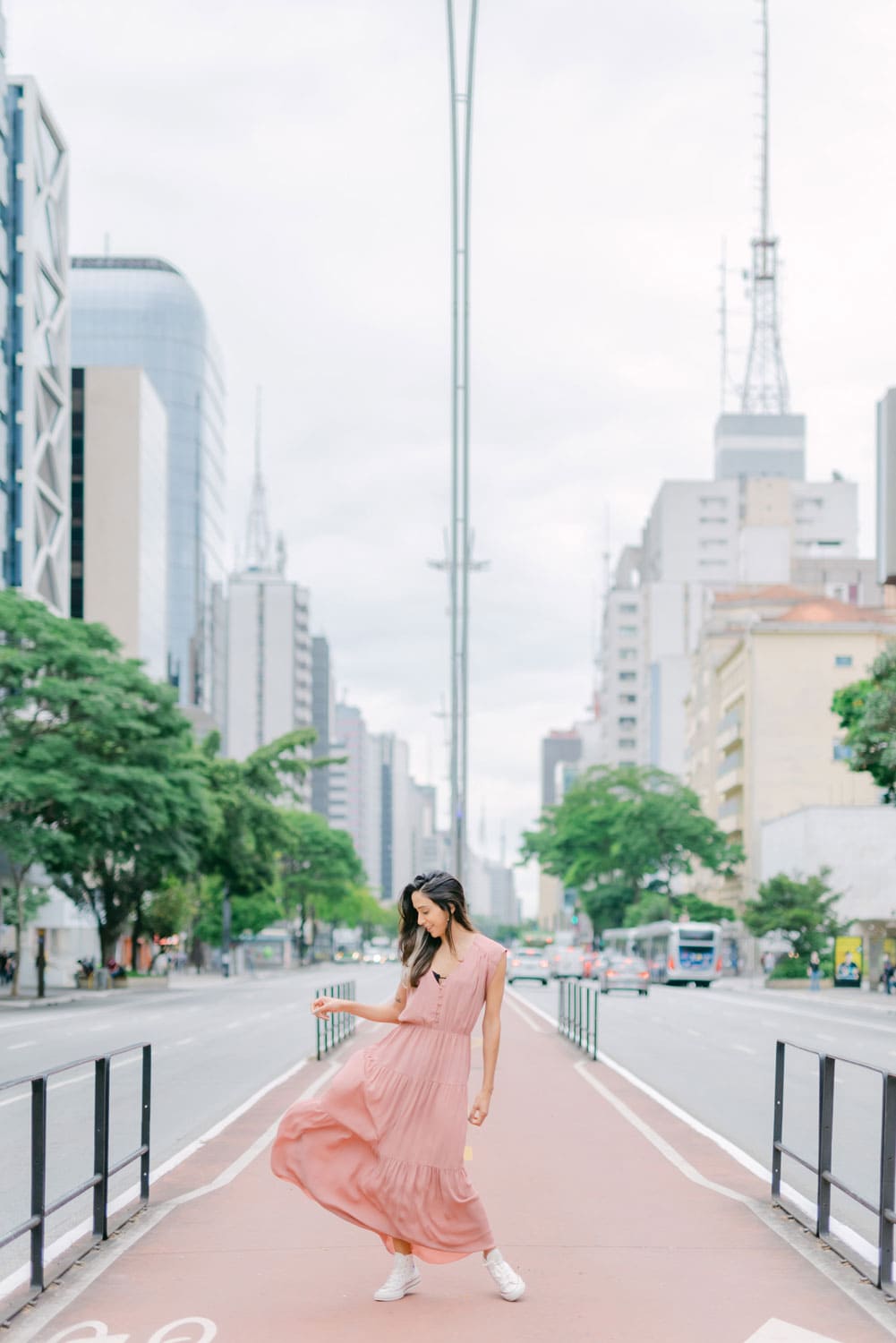 7 | Showit vs Squarespace – E-commerce / Online Shop
You can run e-commerce and set up an online shop for your business on both Showit and Squarespace.
While Squarespace has e-commerce built-in right into the platform and you can set up an online shop easily, Showit requires a longer setup.
On Showit you can launch an online shop by using third-party software carts or get a WooCommerce store on the advanced plan.
Integrating third-party carts on Showit is fast and does not require any advanced knowledge other than what is available on your cart of choice regarding embedding products, buttons, and carts.
On the other side, setting up a WooCommerce store on Showit takes more time and requires some advanced template pages to get set in order for the WooCommerce pages to display correctly. 
For in-depth information on How Showit eCommerce works, what you need, and how to launch a shop, be sure to read my Showit eCommerce Complete Guide.
8 | Showit vs Squarespace – App Backend Interface & Customization possibilities
You will most likely hear from anyone who worked and designed on both Showit and Squarespace that the Squarespace interface is simpler, slicker, and less intimidating than the Showit's.
However, bear in mind that all platforms do come with a learning curve and you will most likely need to learn how to use any of the platform options and features.
And, if you want the complete design freedom that unlike Squarespace Showit allows for, learning the Showit's interface is something you will be able to master in no time. Especially since there are many tutorials and an awesome always ready-to-help community for Showit.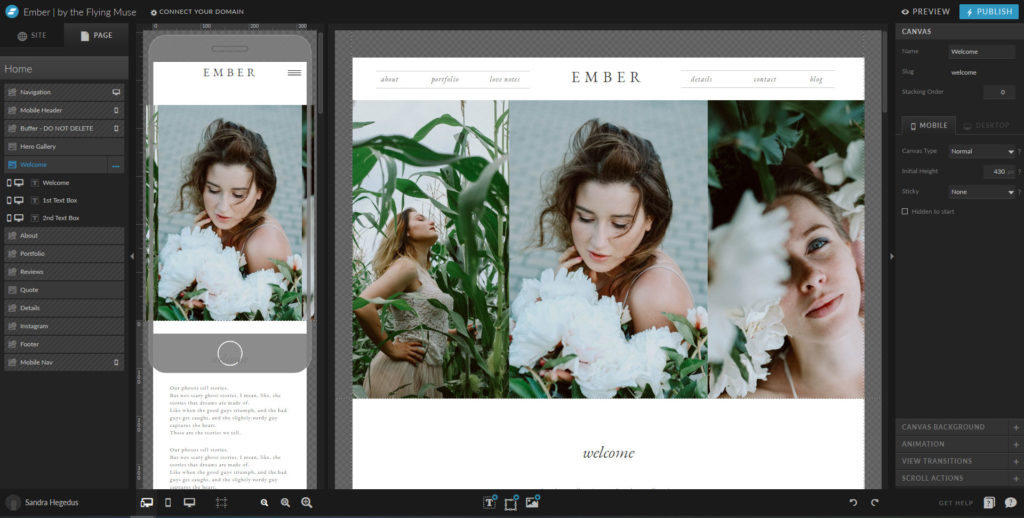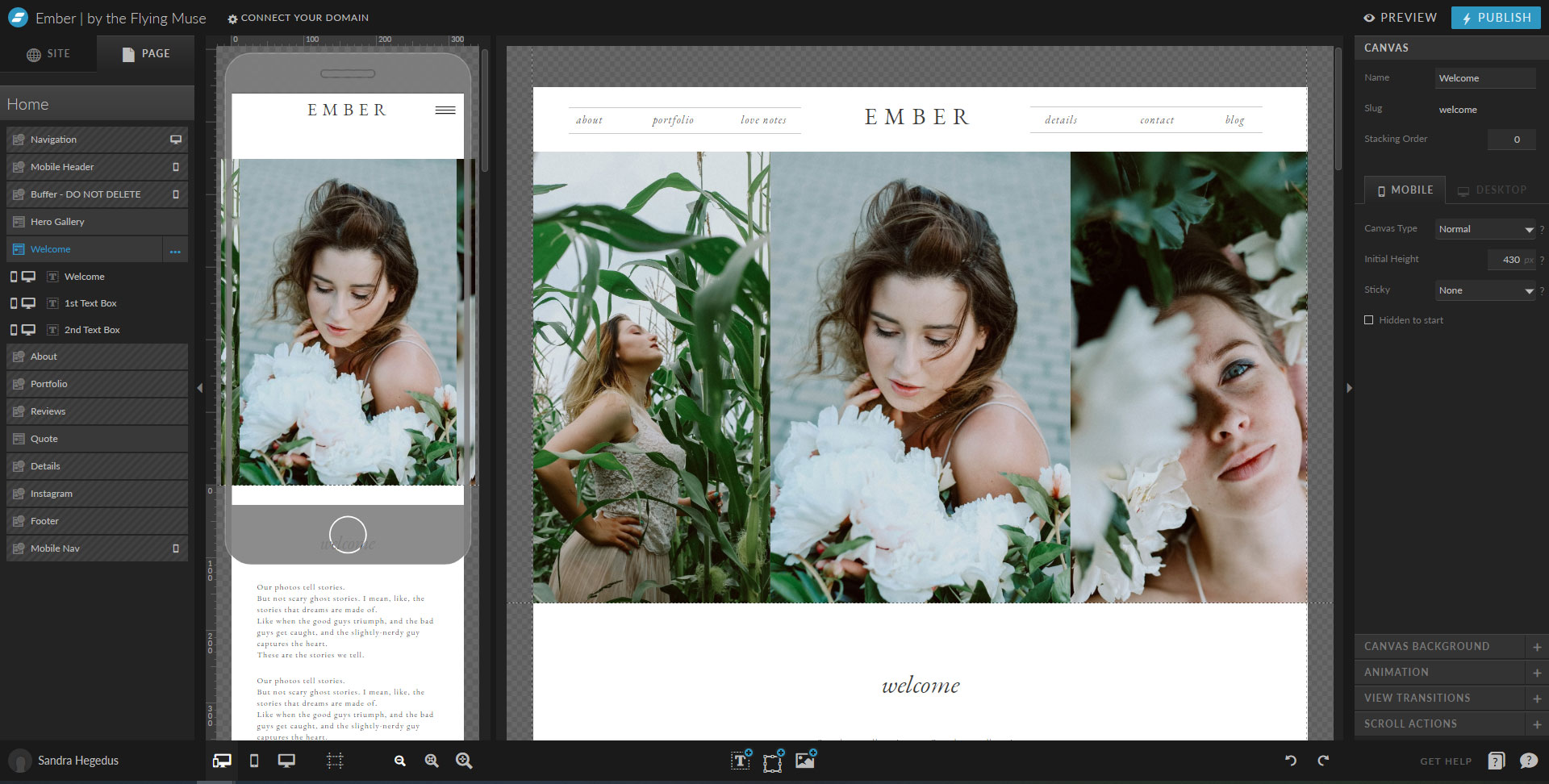 9 | Showit vs Squarespace – Availability of Templates and Designs
Both Squarespace and Showit provide drag-and-drop templates. You can choose to design and launch your website with any of the free templates, purchase a premium website template design or work with a website designer on a custom website design. There are plenty of options and many designers who design for both platforms, so finding the right designer to help you in customizing a template, or crafting a custom website design experience for any of these two platforms shouldn't be a challenge. One thing to note here is – while Showit designers can design a completely custom website design experience for your business without the use of any template at all, Squarespace designers will always need to use a starter template to design a website for you.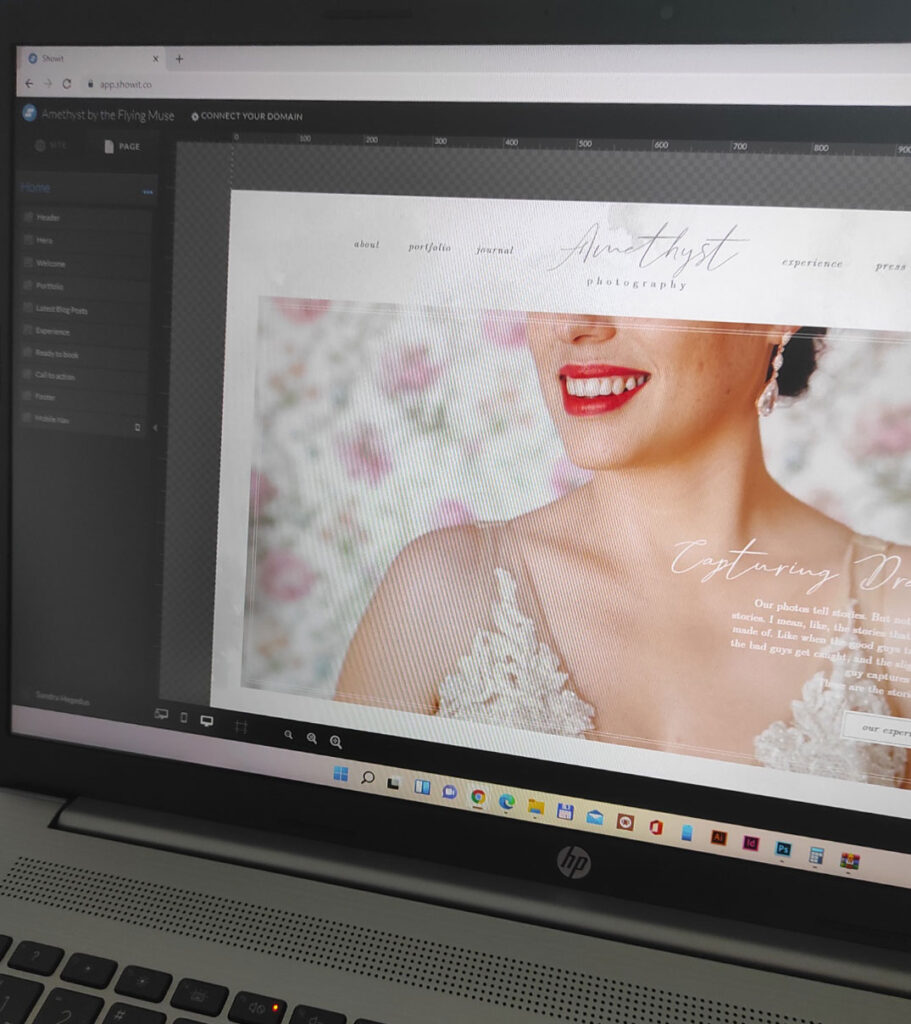 Additionally, both platforms are drag-and-drop and come with different design capabilities. In Showit you can move and place elements anywhere you like or better say to an exact spot without the need to use any external code or software.
On the other hand, to achieve the same layout in Squarespace you will either need external Photoshop-like software, extra lines of code (mostly CSS), or a designer/developer that specializes in Squarespace for the specific customization.
10 | Showit vs Squarespace – Adding, changing, and updating website content
You can absolutely add, change, and update your website content by yourself on both Showit and Squarespace. Both website design platforms come with drag-and-drop tools that allow you to design your website easily.
11 | Showit vs Squarespace – Responsive website design
Responsive design means your website will automatically adjust to the visitor's screen size and device, and both Showit and Squarespace platforms offer responsive design.
The responsiveness is handled on Squarespace automatically and you can adjust some minor things.
On the other hand, on Showit the desktop version and the Mobile version have to be designed separately. While this provides flexibility in how you can design a Showit website mobile design it also means you will need extra time to design a page on Showit. Luckily Showit implemented tools to make the mobile site editing and design faster.
12 | Showit vs Squarespace – Analytics
There are many reasons why setting up website analytics is important For making informed decisions about your business website. And, luckily both Showit and Squarespace made getting Analytics set super easy and effortless.
While Squarespace comes with its own built-in analytics, on Showit you will need to either use Google Analytics or integrate a different Analytics platform to be able to track your website stats. Showit integrates with Google Analytics, and it is extremely easy to set Google Analytics up in Showit. And, even in the case you need to set up the Google Tag Manager on Showit, Showit got you covered.
13 | Showit vs Squarespace – SEO
Squarespace and Showit are great for Search Engine Optimization (SEO). You can rank as high as number one on Google with either Showit or Squarespace. Both platforms come with built-in tools for SEO and Showit by default installs Yoast on plans that include a blog subscription. Setting up SEO on Showit is specific to the platform. And, if you're on the advanced plan you can also run other than Yoast almost any WordPress SEO plugin. Either way, you can completely customize and optimize your websites' and your blog posts' SEO on both Showit and Squarespace with ease.
14 | Showit vs Squarespace – Coding skills
Since both platforms are drag-and-drop and come with an editor app to design your website on, you do not need to know how to code to update and make changes to your website.
However, for some advanced things and if you're up to tinkering with the platform both Showit and Squarespace allow for adding code with some limitations according to your subscription plan and tier.
15 | Showit vs Squarespace – Developer platform
Both platforms offer a developer platform.
Squarespace offers a developer platform for advanced customizations while on Showit designers and developers can request an additional specially set environment where they can test new designs, features, or plugin integrations.
As a designer myself, I use the Showit developer environment regularly to test all of my templates and custom website designs I do for clients and it works like a charm.
I also tested plugins on this environment. However, I am not a plugin developer so I haven't done any testing for my own custom-made plugins but heard and came across plugin developers who said they were able to test and access even some additional developer-specific features.
16 | Showit vs Squarespace – Integrations
Both Showit and Squarespace have a growing list of third-party integrations. Squarespace provides many features built-in into the platform for which you will need an external third-party integration on Showit. However, Showit integrates well with some of the most prominent third-party platforms, extensions, and plugins for WordPress. You may also check the Showit docs on plugins Showit has tested and confirmed an integration for.
17 | Showit vs Squarespace – Trial, Pricing, and Subscriptions
Showit and Squarespace offer a 14-day free trial to test the platform features and for you to see how easy it is to design and launch a website on any of these platforms.
After the end of your trial, you're provided with options for monthly and annual plans on both Showit and Squarespace. Showit's plans start at $19/month while Squarespace plans start at $16/month for annual subscriptions.
18 | Showit vs Squarespace – Customer Support
Excellent support is available for you on both Squarespace and Showit. Their support teams and helpful resources in the form of documentation and video are here to help and ease the process of learning the ins of each website design platform.
While Squarespace provides 24/7 support on all plans, Showit provides support on all business days and an option for emergency support requests. Squarespace support is usually available via email, live chat, Twitter, and Facebook Messenger, and the Showit support team is available via email or live chat. Showit usually responds to questions and messages within 1-2 hours during their business days and hours.
Showit vs Squarespace – Which one is better?
Most of you will ask and will seek information on which one is better Showit vs Squarespace. However, as a designer myself, I do not believe in labeling a platform to be better than another one. My approach is different, and I believe any platform is good for your business website as long as the platform can meet your business-specific goals. A website that provides you with the design capabilities, features, and integrations you need for your specific business model and audience.
However, if I compare the two platforms I can rank them like this:
Showit is better for the design capabilities, the design freedom you will get, and the customization options;
Squarespace is better for the all-inclusiveness and seamless setups.
All of this being said, I hope this article has helped you in picking a website platform and deciding on Showit vs Squarespace. I would love to hear your thoughts and questions that may pop so feel free to post your comment below.