Planning your website design content? One of the 'must have' pages is the About page.
The About Us page is an essential part of any website and probably is the most visited page.
Just think about it – if you want to find out who behind a website is, you just landed on no matter if it is a website for an organization, a company, or an individual, the About page would be the primary web page you would look up on their website.
So, along with your homepage, one of the first impressions you will make on a website visitor is with your About Us page.
Fortunately, that is excellent news!
You can tailor this page with your brand visuals and voice and at the same time tell your story in a creative way.
We all have seen good and bad About Us pages.
However, the main question right here is: What truly makes an outstanding About Us web page?
Table of Contents
1 | Be Unique
Your 'About Us' page needs to be memorable.
The About Us pages that stick in our minds are those that really stood out: maybe the page was humorous, entertaining, used lots of good imagery, or used innovative ways to make it memorable.
You need to discover your business's distinctive traits and let them shine creatively.
Depending on your business model, you can also create an inspiring and unique About page to stand out from the crowd.
If you add your story, your expertise in an engaging and easy to read way, then your About page will present information that would attract visitors to stay, browse around your site, or even buy one (or more 😊) of your products or services.
2 | Personalize Your Page
The second factor to keep in mind if you aim to create a great and effective About Us web page is to personalize it sufficiently, to suit your audience and your business.
This page needs to showcase content tailored to your niche and audience.
By adding content that relates to your audience, prospects, or dream clients you will spark an interest in your brand.
Depending on how much you are ready to share with your site visitors and prospects, you can curate a page that will display the human side of your business.
Think about your business model as a whole, and reveal the intriguing characteristics of your business.
You can present how your business was founded, what inspired your founders, which problems you solve, and reveal unique fascinating details which only your true followers would understand and appreciate.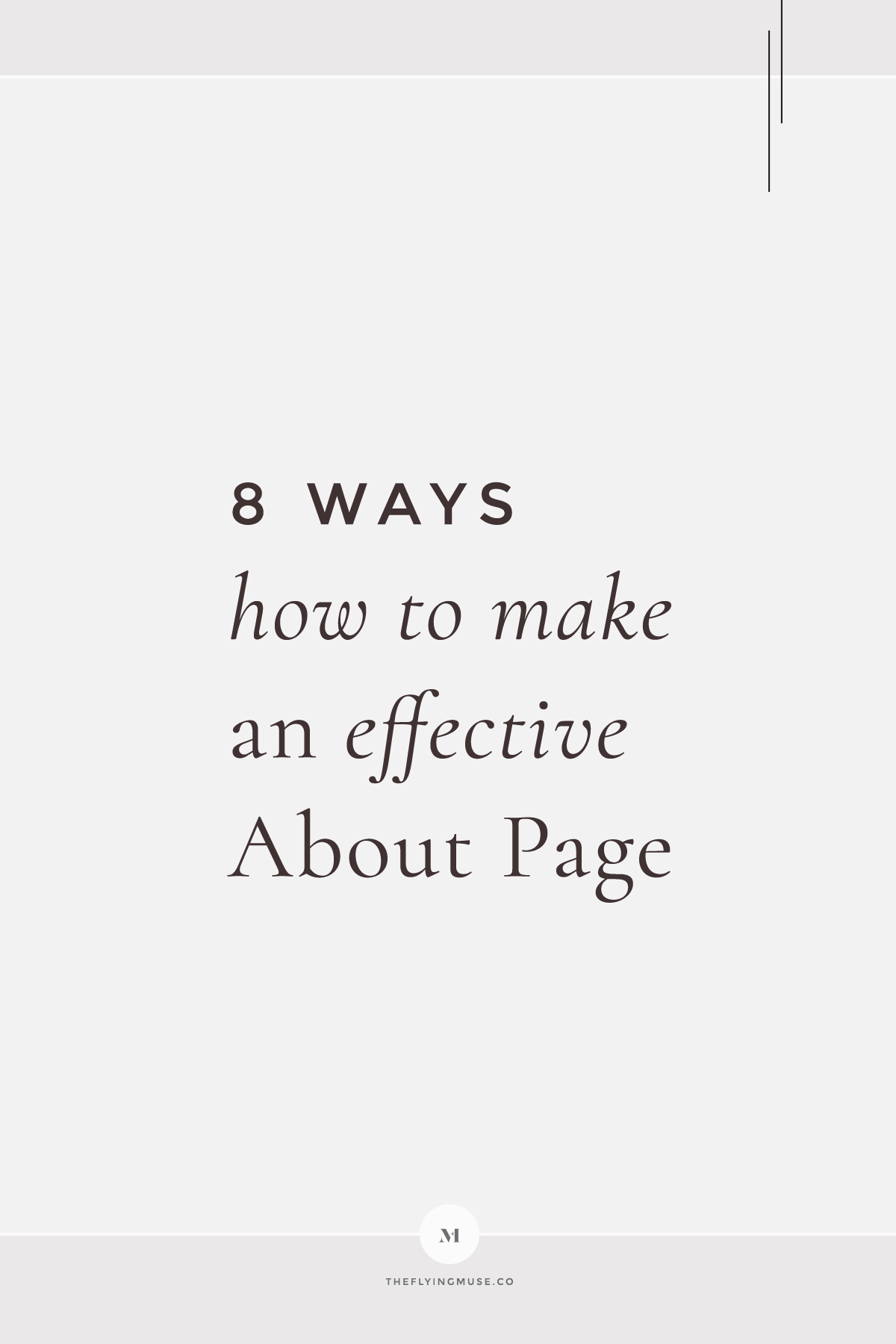 3 | Tell Your Story
If your business has an attention-grabbing, or uncommon story regarding the way it was founded, then that might be an awesome trait to take advantage of.
Reveal your story – the how, why, what, and to whom you are promoting to.
This is especially effective when you have a concise and clearly curated message for your audience.
Don't forget that your business has something, maybe even one small thing to offer, that is different from the remainder of your niche or your direct competition.
4 | Create a Business Timeline
Another interesting presentation of your business is to include all the interesting facts and dates in a not too wordy way as an interactive timeline.
This could be a great way to showcase important dates and highlights which made your business possible.
You could display in a constructive yet engaging way how your business developed over time.
After all, you want your website visitors to stay and learn more about your brand, don't you?
5 | Be Clear and Concise
Aside from inserting your personal uniqueness into your About Us page, it's essential to keep in mind that the main goal is to clarify who you are.
The About Us page should, most of all, be informative and clear.
The About Us page should explain what your business does, what the purpose is, however in an engaging way.
Don't overdo it for the reason – the very best About Us pages are concise and easy to read and browse through, making it simple for the viewers to grasp your information and your intentions.
6 | The People Behind Your Business
Nowadays, people want to connect with brands on a personal level.
They want to know not about the business side only, they want to know the people behind the brand.
Therefore, if your business has team members, it might be extra interesting to focus your About Us web page on your team members who make your business possible every single day.
Don't be shy in case you have a small staff.
Just focus on your employees.
This usually is a very efficient way to present what you and your team can do for your clients.
They can see the folks working behind your business, along with their strengths and skills.
You do not have to incorporate plenty of details about your teammates, and you can definitely leave out details you feel are not relevant to your brand.
However, in the event you get your staff to jot down quick paragraphs about themselves, revealing an unusual line about themselves or what they do, then this will probably be enough to get things going.
7 | Call to action
A call to action (CTA) is content specifically created to ignite an immediate response from the person reading it.
It's generally used at the end, or sometimes throughout.
Since it is the last thing a person sees on your page, it is advisable to include a Call to action at the very end of a page.
This way you let the visitor make an immediate choice, and this ultimately should increase the conversion rate.
Some designers, content strategists, or bloggers would tell you – to always and everywhere include a call to action.
I strongly advise you to include it only when a Call to action is needed.
After all, you might need a Call to action on your Investment page, for the purpose of this page is to convert a visitor into a prospect.
However, you might not need a Call to action on every single gallery page.
When it comes to the About page, I recommend including a Call to action that links to the contact page, investment page, or booking form since you want your visitors to convert into prospects.
8 | Don't clutter
While you are in a creative mood and spend the time to curate your About page to perfection keep in mind – the content should not be too long.
You do not wish to overwhelm your audience with an excessive amount of info, or, certainly, drive them off your website.
Key Takeaway: How To Make an Effective About Page
I really hope you liked these points and ideas on tips on how to create an effective About Us page.
If you already wrote your 'About Us' page, you could check it out and ask yourself do you feel your About Us page is a page that describes your business in a way to impress a visitor?
Or, do you need to do some little modifications to make your business actually stand out from the crowd?
All About Us pages are totally different, and they need to be designed to fit your businesses' character!
There aren't any strict guidelines, simply bear in mind to spend time and do not ignore the significance of this web page.