You finally decided to start your photography or creative business. You are excited, got your legal name registered and just thrilled to start marketing your services to potential clients. You realize everything is great, but how do you reach your potential and dream clients?
While maybe you got your photography or creative business the bare branding basics – a logo and business cards designed – just came to a conclusion – you need a website, too. After all, you want to get those dream clients to book you or buy a product from you, don't you?
POST UPDATED: 13th November 2018
After all excitement and announcing your newly established photography or creative business to friends and family and perhaps that nice neighbor of yours and even pass some business cards somewhere along, too – your phone doesn't ring and there are no messages in your inbox. This is the moment, you come to a conclusion – you need a website or online presence to reach more potentials and spread your message. So, you need just an inspiration to get started with your website, right?
At this point, you probably go to Pinterest, create a board for yourself start pinning like a maniac or start Googling around for information – what you need to get started a website for your photography or creative business. Suddenly, you are hit by multiple platforms information and you can admit you are a bit lost, aren't you?
Luckily for you, I've designed and managed multiple worldwide branding and website design projects within my 15+ years of graphic design and website design career. To calm you down a bit – this is the most common challenge photography or creative business owners come across when they are trying to gather all information on what is the right website platform for their photography or creative business. To help you out, I've summarized and presented information you need to know before deciding which one is right for you. Fret no more, here is the info you need – so, read on!
Blogger
To be honest, the most cost-effective website platform is Blogger, not to mention it is pretty easy to set up and maintain a website on the Blogger platform by Google. Blogger is suitable for people just starting out, but the main focus still remains – blogging. You can get a free account and start building a website with the Blogger platform in a few minutes. However, for the basic Blogger version, you get a URL address containing .blogspot.com at the end. Therefore, your web address will be https://yourname.blogspot.com – and you want that yourname.com address for your business, right?
If you decide to use Blogger as a website platform for your photography or creative business, make sure you go and purchase your own domain and configure the blog/website address to yourname.com domain. While you can get a domain name from the Blogger dashboard, I recommend buying your domain from a domain registrar, and not via Google. This will allow you to switch hosting providers, at any later point in time, without any issue at all. The added cost for a domain name can be anywhere between $10 to $30 per year.
If you only need a simple website and blog to maintain, Blogger can be a great solution for your creative business. However, despite being a low cost I wouldn't recommend Blogger for professional photography business owners, as you will outgrow the platform in no time.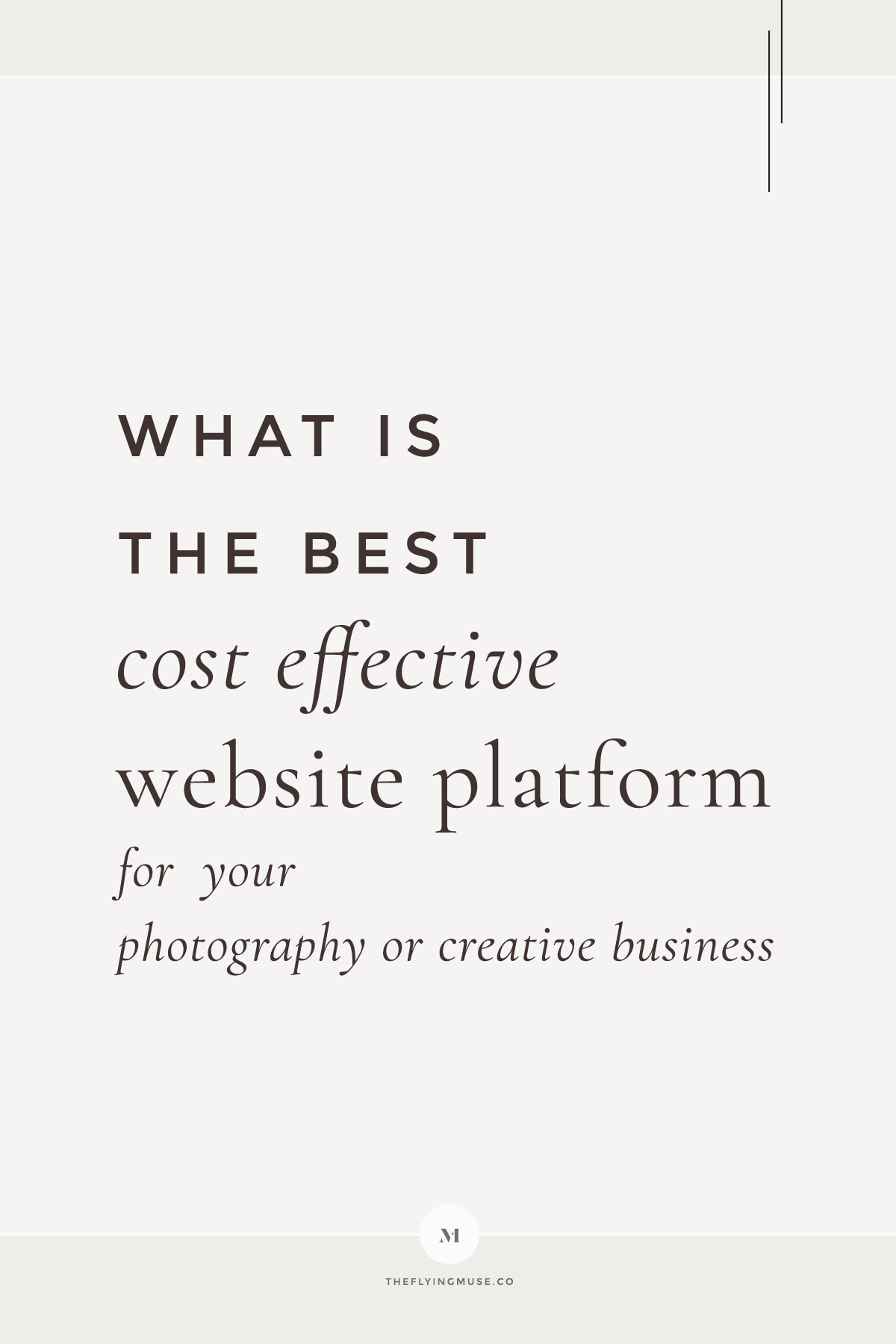 WordPress.com
WordPress.com gives your creative or photography business an easy to use and customize on the go website. Similar to Blogger you get a .wordpress.com website address. If you'd like a simple website and you think there will be no extra needs for your business to grow, I suggest you to at least upgrade to WordPress.com Personal plan. For more added control and customization to your website, the Business plan is great since you can have any custom theme and any plugins installed on this plan.
At the time of writing this post, the WordPress.com Personal plan costs around $50/year and includes a free domain registration. Similar to Google's Blogger I recommend getting your own domain name from a different domain name registrar. This will keep site transfers flexible at any later point.
Here is a link to the WordPress.com domain pricing.
Self-hosted WordPress
To get up and running with a WordPress self-hosted website you will need domain name and hosting. These costs are yearly, domains around $20 and a hosting at minimum $50. However, if you decide to get a self-hosted WordPress website and intend to manage it yourself there is some learning curve. If you ever used WordPress.com you will be able to work on the self-hosted WordPress interface without a problem.
I'd recommend self-hosted WordPress for both, creative and photography business owners. For both businesses, WordPress will allow your business to grow without a problem. There are many plugins to choose from, themes already developed and most of what you want or will need at a later point, probably is already out there for you. If, as a creative owner you'd like to get an e-commerce solution, you can set your store anytime you want. Photography business owners will have the pleasure to grow their website and if they choose to switch to ProPhoto (details on ProPhoto below) at any later point, the transfer will be a breeze. Of course, you don't have to switch your self – hosted WordPress website to ProPhoto, but it will be easier if you decide to do so.
Additionally, self-hosted WordPress website means you will be responsible for the website maintenance if anything goes awry or updates are needed. Of course, you can always hire someone to do this for you. However, you should be aware this may either add costs or take time away from working with clients.
ProPhoto
ProPhoto runs on self-hosted WordPress and is built specifically with photography businesses in mind. If you want your photography website built on ProPhoto you will need everything from the self-hosted WordPress + ProPhoto license (around $200, $249 – ProPhoto raised the license fee with the release of ProPhoto 7). ProPhoto is widely used by professional photographers and is built specifically for photographers. However, keep in mind that ProPhoto releases new versions at an additional cost. While your license covers upgrades for the current version, new ProPhoto version always comes at an additional cost. However, worth to note here is that guys at ProPhoto always added a discount to upgrade licenses from an earlier version to the new ProPhoto version.
While ProPhoto is a great solution for photography businesses, their website building platform is a bit complex if you haven't built a website by yourself before. If you'd like to jump-start your photography business website, you can get a free or paid design template (around $275 per template). Or, you can work with me 😊 on a completely custom ProPhoto website design created from scratch without the need to get a starter template. However, you will need the ProPhoto license.
The way ProPhoto works, each setting has to be configured manually. Therefore, this makes ProPhoto the most time-consuming platform when it comes to building and designing websites. However, with the release of ProPhoto 7, there is a visual page builder available, and that tremendously shortens the time to design and update your ProPhoto 7 website. I can't really say that ProPhoto became a completely drag and drop website design platform (one still needs to enter settings elsewhere in the platform), with the release of the visual page builder in ProPhoto 7 seems they will be shifting in that direction.
While setting your photography business with a ready-made ProPhoto might work for you, you may still want to hire a professional designer to at least set your website for you. If your budget allows, I recommend you to get a custom designed ProPhoto website for your photography business.
Squarespace
As a platform, Squarespace has pros and cons, too. Their interface is drag and drop, making it easy to update your website whenever you need to without touching the code at all. You don't have to worry about maintenance, their team does this for you. However, Squarespace is built around bloggers and small business owners in mind. While Squarespace can be great for a creative business owner, photography business owners need to be aware that Squarespace is not specifically built with photographers in mind. This means there are some cons and you will most likely hit a wall if you need some additional tools and features implemented on your website.
If you intend to integrate an e-commerce solution within your Squarespace website, keep in mind that only Stripe, PayPal business, and Venmo are supported. While some of you may use Stripe and are happy with their service, at the time of writing this post, Stripe is available for select countries only.
When it comes to Squarespace, one of the downsides for photographer business owners are no additional tools built specifically for Photographers. Therefore, if for instance, you'd like to integrate any type of bookings via your website, these will have to be handled by a third-party service.
When it comes to the cost, yearly cost for Squarespace comes at around $150 for the basic package (e-commerce has added costs).
Shopify
Shopify is a great platform to build an online store (or a website) for your creative or photography business. Setting up a store is a breeze, and their interface is pretty simple to use. While Shopify will cost you a bit more than getting an online store for your photography or creative business on WordPress, they will cut your maintenance costs. Basic package starts at $29/month, but I recommend you to get the $79 if your business picks up. This will get you some added features, like gift cards, abandoned cart recovery & advanced reporting.
If you want to grow your business (with an e-commerce aspect) and not worry about maintenance Shopify is a way to go. The Shopify App Store has many free or paid apps that will suit almost any business case. While Shopify is mainly a platform to build and maintain an online store, you can set up a portfolio section, blog section and even add some nifty tools, too. There is no discussion on the subject if Shopify is suitable for creative business owners.
However, when it comes to photographers, there seems to be miss conception out there, that Shopify can be used to build a website for photographers who only sell printables or downloads. Shopify has added tools that could suit any professional photography business – you can set private galleries, get bookings via your website or do practically anything a photography business may need (some of these have added costs).
And, to summarize…
I really hope you reached the end of this post. If you did, thank you for reading the whole thing. I totally understand how frustrating getting your creative or photography business website up and running can be. Luckily, there are designers, just like me who went through the process multiple times, designed websites for clients across the globe and are able to share insight on the subject. So, I am really curious, have you found the perfect website platform for your photography or creative business?