I have so many questions on How to claim your blog on Bloglovin after writing a post on Free places where you can share your blog posts and grow your blog traffic.
While I was writing that post, I included details on Bloglovin, too.
However, their process to claim a blog is a bit tangled up and somewhat glitchy.
I tried several times to claim my blog on Bloglovin but if you had read my experience it wasn't a seamless process (at least for me).
There is a huge possibility that one of the reasons why I had an issue while trying to claim my blog on Bloglovin, is that my domain name ends in '.co' and not '.com' (Although I own the '.com' version, too).
So, I created this short guide on How to claim your blog on Bloglovin to help out some of you who might end up with an issue doing so or just need step-by-step guidance.
Update – What happened to Bloglovin' in 2022?

Bloglovin' is no longer operating and the company has been rebranded, check out their Twitter bio for details.
Update – November 2023

Just checked the Bloglovin site and seems they are up and running again. I haven't found any update about this anywhere else, so I'm unsure if Bloglovin is back permanently.
Table of Contents
What is Bloglovin?
Bloglovin is a platform to discover new content and share your own blog posts. Right after creating an account, you will need to claim your blog and your blog posts will get added automatically to Bloglovin.
I created an account for Bloglovin several years ago (you can follow me on Bloglovin).
At the time, blogging was not one of the top priorities for my business and the platform was full of fashion, cooking, and lifestyle type of blogs so it gave me the impression that my target audience was not there.
So, I figured that Bloglovin did not align with my (at that time) business goals and decided to get back and check it out after some time.
Since then I changed my business priorities and blogging landed on the #2 place by importance for my business growth. The number one remains working on custom branding and website design projects as well as crafting website templates for ProPhoto and Showit.
Therefore, I decided to give Bloglovin a go and see what results I would get there. For my niche, I heard some branding and website designers had a good experience. And, that Bloglovin was an asset in growing their blog traffic, so it's definitely worth a try.
If you're looking for collaboration and sponsored post opportunities you may also want to sign up to Activate by Bloglovin, too.
And, if you want to use Bloglovin on your mobile phone or tablet, to follow some (or all) of your favorite blogs, there's a Bloglovin app available for Android & Apple devices, too.
Why do you want to be on Bloglovin?
Bloglovin is a completely free platform to drive traffic to your blog.
One of the main assets to claiming and setting up your blog on Bloglovin is that you need to set it up only once.
Then Bloglovin automatically publishes all of your new blog posts.
You do not need to do anything additionally to publish your post there but may increase your blog traffic simply by setting your blog profile and claiming your blog on Bloglovin.
Will Bloglovin work for you & your niche?
There isn't a straight answer to this question.
For example, I write blog posts on branding, website design, marketing, business, and blogging, and I am curious if my blog traffic will benefit from Bloglovin.
I found that most of the content on Bloglovin is connected to creatives and bloggers.
Some of the bloggers praise Bloglovin while others report mediocre to no results.
It comes to testing if your blog will benefit from claiming your blog on Bloglovin.
In the end, Bloglovin can work for your niche or not work at all.
However, since you will need to do this only once, and then it is an automatic process, there's absolutely nothing you could lose.
So, it is definitely worth the effort, since claiming and setting your blog on Bloglovin will take only a small portion of your time.
How to claim your blog on Bloglovin?
Step 1. Create a Bloglovin account. If you haven't already done so, you will need to create an account to be able to connect your blog.
TIP: For many of the platforms where I join, I use a non-branded email I have, so notifications from these platforms do not mix up with my business and important emails.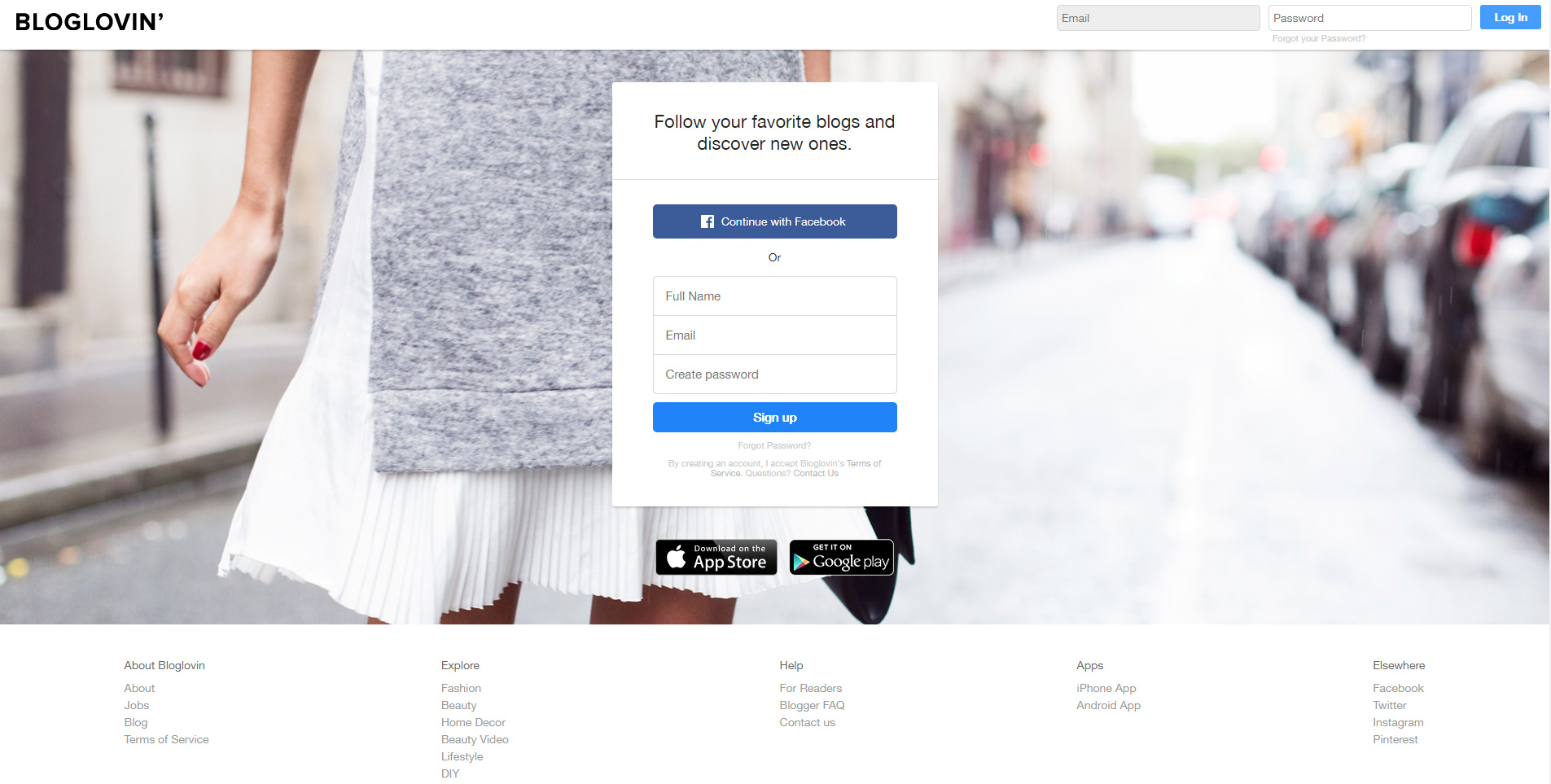 Step 2. Fill in your profile details & don't use the Claim your Blog button from your profile.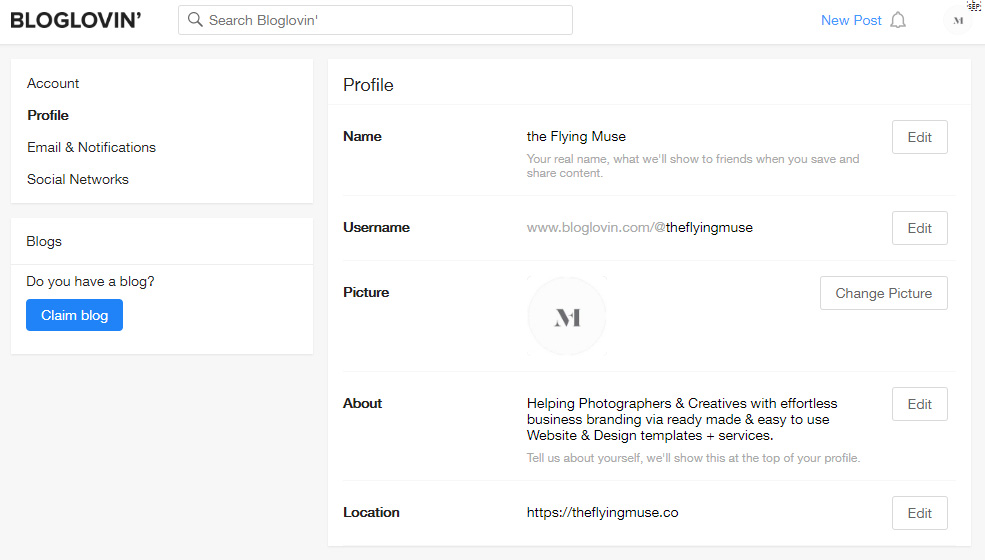 Step 3. Search for your blog on Bloglovin.

From your homepage search for your blog's full address in the search bar.
I had an issue in finding my blog by using the search bar at first and I had to insert a link to my RSS feed instead. Only then Bloglovin pulled info from my blog.
I also noticed that Bloglovin does not automatically pull my Featured Blog post images, so I will need to solve this.
This is done by setting the RSS feed to include your images.
I am running my blog on WordPress, so I will be installing a plugin to manage this issue. However,
I'm not sure if this will resolve the posts that are already there. I will post my resolution as soon as I test it out on this post.
EDIT:
I installed an extremely lightweight WordPress plugin to display images in my RSS feed called RSS Featured Image.
Not only that this plugin does the job right, but I noticed that Bloglovin pulled the featured images on all of the existing posts there, too.
Step 4. Click on the 'Claim it' link and copy and paste the Bloglovin to a new blog post.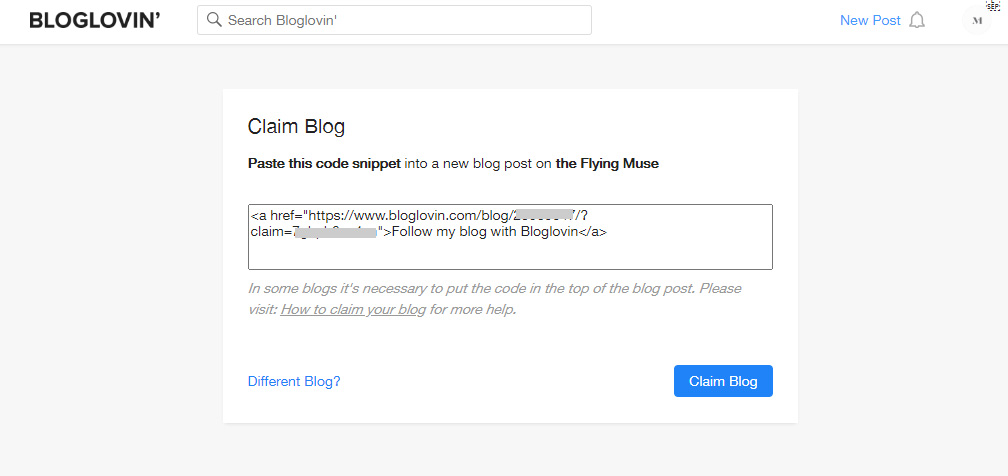 It is a bummer that one has to create a new blog post to be able to complete the process. I wanted to get this off my list. This was the main reason why I wrote this guide in the first place.
Make sure you had inserted this code at the very beginning of your post. It is advised by Bloglovin themselves to do this because just sometimes it makes a difference. For me, it definitely did make a difference since I had a problem in Bloglovin fetching my verification post.
However, after clicking on the Claim Blog button, you should be set and done.
What you need to do after you had successfully claimed your blog on Bloglovin
As soon as the process has finished, you're ready to go. You do not need to do anything at all for your blog posts to appear on your Bloglovin profile.
I found that some bloggers add a link to their blogs to make people follow them on Bloglovin, so you may want to try that, too.
Also, in addition to this, make sure your profile is set with all of your details. Even if you do not actively participate on the platform, an empty profile is not what will encourage anyone to follow you there.
I am really interested in hearing what kind of an impact this had on your blog traffic and if you did see results. So, if you had already used the platform comment below what your experience was or is. I'm also curious to find out what your niche is and if claiming your blog on Bloglovin has helped you in growing your blog.